Thomas McCarthy does a smash-up job portraying interpersonal relationships. His sophomore effort (follow-up to The Station Agent) is evidence. McCarthy is also an actor and a writer. He had a stint as an unethical reporter on The Wire's last season.
Walter Vale (Richard Jenkins) is a dead man. He leads a solitary life devoid of passion and happiness. He possesses musical wont which he chips away at through uninspired piano lessons. The most encouragement his teaches gives her desire to purchase his piano, if ever he decided to quit playing, because, in her words, he isn't very good at it. He doesn't let anyone in and if anyone gets close, he send them on their way. As a college professor, he has stopped caring about much. He hides behind the farce of writing a book. When he leaves Connecticut for his apartment in NYC to further work on this book, he discovers a couple living in his place--they are strangers to him. Tarek (Haaz Sleiman) is from Syria and Zainab (Danai Gurira) is from Senegal. The couple discover they were tricked by someone into renting a place they thought was available (this plot point never gets resolved). Walter puts them out but when he realizes they have no where to go, he lets them stay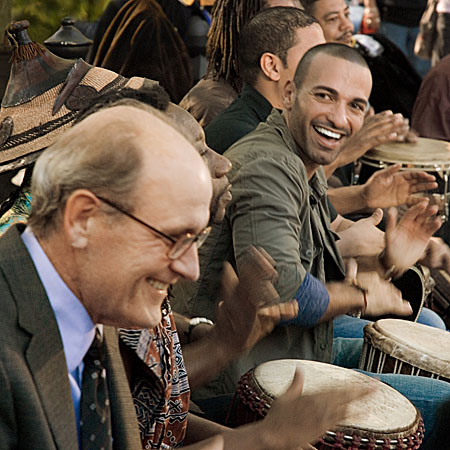 until they can find lodgings. During this time, Walter and Tarek forge a friendship revolving around music and the African drum. Tarek teaches Walter to drum and Walter comes back to life. Zainab remains indifferent to Walter, until Tarek gets thrown into a detention center and Walter is the only one who can help.
The Visitor is about friendship and finding happiness (without going down the sticky maudlin path). The movie is loyal to Walter, its protagonist, and to the changes he undergoes when his life becomes wrapped up in theirs. There's witty dialogue, colorful characters development and a steady moving plot.
Director: Thomas McCarthy
Country: US
Genre: Drama
Minutes:  103 minutes
Scale: 4.5