Not sure how it happens but yet again, I've fallen shamelessly behind on reviews. I've hit theaters much more these days. So, catching up on these nine is too much to bare; however, not giving them mention is worse. Tidbits with all getting a quickie review are the solution.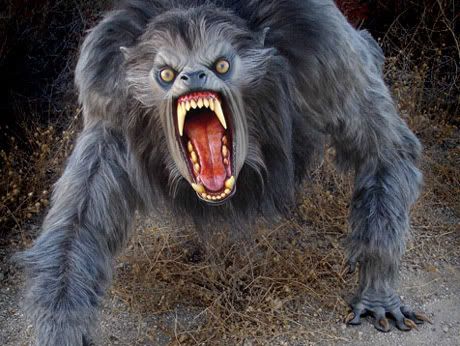 American Werewolf in London--a werewolf cult classic written and directed by John Landis. Couldn't believe it sired in 1981. Did it stand the test of time? Yes! The dialogue is cheesy and jokes are stale but the chemistry between David (David Naughton) and Nurse Alex (Jenny Agutter) works. The special effects are pre-school compared to today's standards, but considering there's no computer animation, they're quite good. Gore a plenty. Great suspense building. AWL crawls in a few spots, but the gore and creepy scenes are worth the wait.
The Host--Another monster movie, although this squid-like creature is a "host" of
some unidentified virus. Set in South Korea, it starts off as the young Park girl is snatched by the host. Her dad, granddad, aunt and uncle go on a family mission to get her back. The movie brilliantly blends family dysfunction, thrills, comedy, action and horror. If I hadn't watched it several weeks ago, I could go on and on providing more details about how excellent it was. I remember seeing previews and thinking, The Host will either be awesome or terrible. In the end, I wished I had never seen it so I could go back again and have the pleasure of viewing it again from scratch.
Adams æbler (Adam's Apples)--Fascinatingly bizarre Danish film. When Adam (Ulrich Thomsen) arrives to the church where he will do his community service before going back to his neo-Nazi lifestyle, he must set goals for his stay. Priest Ivan (Mads Mikkelsen)
records Adam's sarcastic answer that he will "bake a pie" as his goal. Ivan shows Adam the apple tree he will tend to produce the apples to use in his pie. Things do not go as planned. Will Adam get to bake his cake? Superbly strange!
Revolutionary Road--I wasn't a fan of Titanic. I'm a fan of Kate and Leo. I reluctantly admit to the Leo part of it because for as much hoopla as he gets for his acting chops, he has participated in big Hollywood sell-outs; however, he has some great movies to his credit, especially the pre-Titanic credits. In Revolutionary Road (set in the '50s), these two sizzle as April and Frank Wheeler; they depict
the emotionally crazed breakdown of their dysfunctional marriage. In the midst of this intensity, John Givings (Michael Shannon) is the ray of comedic light; however, the humor comes at a very high price for April and Frank. I sat in the theater for a few minutes after it was over, collecting myself. It left me drained. You've been warned, now don't miss it.
Doubt--Saw Doubt the day after seeing Revolutionary Road. Was expecting just as much tension. It was wrought with conflicts but they just couldn't compete with the insanity of RR. Sister Aloysius Beauvier (Meryl Streep) goes head-to-head with Father Brendan Flynn (Philip Seymour Hoffman) when she believes he has engaged in an inappropriate relationship with Donald Miller (Joseph Foster), a
young boy who happens to be the only African American student at the school. Based on hearsay, the situation spirals until the school becomes too small for both. Doubt a plenty for everyone involved (and those watching). Streep got nomination nods for her role. La Streep is great but in some scenes, she seemed to be overdoing it, especially with the Boston accent. For her small role as Donald Miller's mother, Viola Davis has been getting recognition. Her on-screen time was minimal but she was compelling. Amy Adams was another great contributor as Sister James, the catalyst of the Father Flynn witch hunt.
Rachel Getting Married--Saw this drama the day after Doubt (in prep for Golden Globes) and it was another emotional chip chip. Kym (Anne Hathaway) returns home from rehab to attend her sister, Rachel's (Rosemarie DeWitt) wedding. But, what's a wedding without drama? This movie depicts the drama that is and then some! It delves into addiction, tragedy and the family dynamics that follow. Hathaway is terrific. Her Kym is narcissistic and self-involved, grabbing the spotlight whenever she can, but Rachel is ready and she delivers some zingers before the weekend is over. Written by Jenny Lumet (daughter of Sidney).
Tropic Thunder--This comedy doesn't get rolling until about 40 minutes in; then, there is hilarity when a movie shoot goes wrong and the actors playing soldiers must become actual soldiers. Tom Cruise has a cameo that is so damn awesome, I cannot give anything away. If it wasn't Tom Cruise in this role, it would be funny, but the fact that he pulls this off gives him some cred (in addition
to his roles in Born on the 4th of July and Magnolia). Robert Downey, Jr., is also unbelievably ridiculous. I cannot decide which role was better. Jack Black always cracks me up and he has some doozies here. Jay Baruchel and Brandon T. Jackson round out the crew. Brandon Soo Hoo as Tran is another fun addition--he is 12 and plays a bad-ass militia leader. TT isn't the greatest movie but some scenes may evoke laughter and at the least, there are plenty of cameos.
Shutter--After watching The Exorcism of Emily Rose, I realized that I've become a horror movie wimp. When my pal Carrie insisted that I watch Shutter, I resisted, but it was of no use; she was determined that I would enjoy it and a determined Carrie is no force to be challenged. It wasn't as scary as I'd expected. The story was curious (especially after recent events on the Chicago Hauntings tour). When newlyweds Benjamin (Joshua Jackson) and Jane (Rachael Taylor) honeymoon in Japan so Ben can work on a photo assignment, he re-connects with old friends. But, one friend in particular is still hanging around...in photos. When Jane goes on the investigative trail, she learns the ugly cause behind the ghostly presence.
Vicky Cristina Barcelona--Atypical Woody Allen! Vicky (Rebecca Hall) and Cristina (Scarlett Johansson) are best friends spending two months holiday in Barcelona. They meet hunky artist Juan Antonio Gonzalo (Javier Bardem) who whisks them off to Oviedo for the weekend and proposes a three-way liaison. Liaisons follow, but not exactly as expected. When one liaison has been decided and is comfortably in place, Juan Antonio's ex Maria Elena (Penélope Cruz) comes back into his life and home after a suicide attempt. More liaisons follow and the plot thickens yet again. This is a fun movie. The use of a narrator is especially enjoyable.
The End